Skip to Content
Wrought Iron Fences and Installation
Wrought iron fencing provides a beautiful, elegant, and secure border for any home or business, often seen around stately homes, government buildings, or elegant parks.
At California Fence and Supply, our team builds and installs wrought iron fences that bring a touch of elegance to your property while providing enhanced privacy and security. Whether you want an ornate, flowery gateway for the entrance to your drive or a secure, simple design around your business, our team can build it for you.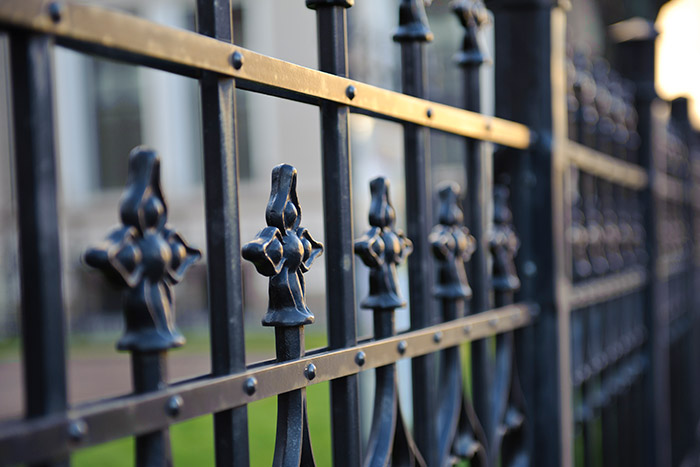 Benefits of Wrought Iron Fencing
Wrought iron fencing is typically created from tubular bars and comes in a wide variety of styles, from contemporary to traditional. Our team at California Fence and Supply works with ornamental steel to build these fences, crafting designs specifically suited to your desired aesthetic.
The primary downside of wrought iron fences is the cost. These beautiful, elegant fences often cost more than alternatives like wood or chain-link fencing, sometimes deterring homeowners from making the leap. But a properly installed wrought iron fence will last many decades, proving itself as a worthwhile long-term investment.
Benefits Include:
Beautiful apperance: One of the primary reasons homeowners or business owners choose wrought iron fencing is for the appearance. Wrought iron fences can be shaped into intricate, flowering details or simple, clean lines. Our team at California Fence and Supply also provides custom metal fabrication and a range of colors of wrought iron fencing to further tailor your fence's appearance to your tastes.
Durability: Wrought iron fencing, if properly built and installed, can last a century or more, adding character and class to any home or business. It simply needs to be repainted every few years to maintain its weather resistance and appearance. It's also easy to repair any damaged sections of the fence with new wrought iron without the need for replacing the entire fence.
Security: Wrought iron is nearly impossible to break, with welded joints and strong bases of concrete or brick. This makes it a great choice for a security fence for your home or business. Opting for a full-height wrought iron fence provides even greater home security since it is very difficult to climb tall wrought iron fences.
Privacy: If privacy is one of your main reasons for installing fencing, wrought iron fencing offers an option for achieving that goal with sophistication and elegance. Our team at California Fence and Supply can build privacy fences with closed wrought iron designs that shield your yard from passersby.
Wrought Iron Fence Installation
Our team at California Fence and Supply provides reliable, quality wrought iron fence installation for homeowners and business owners throughout the South Bay. We carry everything necessary to complete any wrought iron fence project in-house, including electric gate systems and galvanized piping. We also offer custom metal fabrication to turn your dream fencing into reality.
EXPERIENCE THE FENCING THAT BUILT OUR REPUTATION